Limited Partnership Led by PernaFrederick Buys 410 Horsham Road for $2,450,000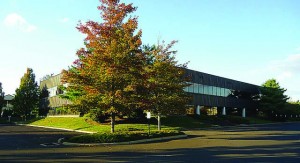 HORSHAM, PA — A private limited real estate investment partnership led by Steve Perna and Matt Frederick, principals of PernaFrederick Commercial Real Estate, has purchased the 88,045 square foot, two-story office building at 410 Horsham Road here.
The building, built in 1990, once house the local offices of TNS and Morningstar and was purchased from First Niagra Realty of Buffalo, NY in a $2,450,000 Agreement of Sale negotiated by CBRE.
Situated on 7.6 landscaped acres with expansive exposure to Horsham Road (Route 463), 410 Horsham Road presents the opportunity for monument tenant signage to the over 31,000 cars daily and has on-site five-car parking for every 1,000 square feet leased. It is also accessible from Route 611.
Commenting on the purchase, Steve Perna said; "We believe 410 Horsham Road presents an excellent opportunity to enter a very mature and rebounding office market that has few large blocks of available space," noting the building represents a prime redevelopment opportunity both as a corporate headquarters or multi-tenant building.
The two 44,000 square foot floors may be divided to suites of 22,000 square feet featuring continuous window lines and the property's high exposure to Horsham Road, plus its multi-point access are ideal for a myriad of value-added office occupancies. Another amenity offered by 410 Horsham is its location next to the upscale Horsham Athletic Center, as well as a full service day care provider.
To attract those tenants, the partnership has started major renovations to include a new lobby, restroom upgrades, landscaping, facade, and other building system enhancements with completion of those improvements scheduled for early 2016.
PernaFrederick has selected the brokerage team of Mike Maloney and Tim Morris in the suburban office of Newmark Knight Grubb Frank to be the exclusive leasing agents for the property. Property management services will be provided by CBRE.
Tenants at 410 Horsham will join neighboring corporations with offices or operations fronting Horsham Road include Teva, Comcast and NextGen Healthcare.