PernaFrederick Brokers Four Center City Office Space Agreements for 5,222 SF Worth $672,000
PHILADELPHIA, PA — PernaFrederick Commercial Real Estate has represented four tenants and one building owner in the lease of approximately 5,222 square feet of office space here having a combined  aggregate rental exceeding $672,000.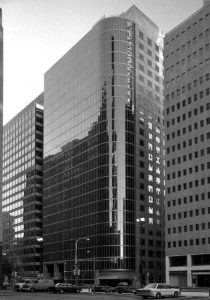 In the largest of the leases, Matthew Frederick, a principal of PernaFrederick and Joe Viturello, a vice president, represented the law firm of Michael Shaffer and Michael Gaier in the lease of an additional 3,020 square feet on the 4th floor of 8 Penn Center, 1628 JFK Boulevard.
Shaffer and Gaier specialize in personal injury and commercial litigation to offer a skill set that results a superior insight of the trends in these areas of the law.
At Penn Treaty Park Place, 1341 North Delaware Avenue, Viturello and Mike Anderson at PernaFrederick represented Supports Your Way in the lease of approximately 2,500 square feet on the 3rd floor of the building for the relocation of offices presently at 1213 Vine Street.
Supports Your Way operates in the physically handicapped home business within the social services sector.
The owner of Penn Treaty Park Place was represented in the lease negotiations by Vince Jolly, a broker with CVA Commercial Real Estate.
Under an agreement brokered by the team of Viturello, Anderson and Dan Gummel at PernaFrederick, America Works of Pennsylvania, an employment agency, has moved to some 1,745 square feet on the 7th floor of 1401 Arch Street.
Viturello represented AFIAA Arch Street, LLC, the building owner, while Gummel and Anderson represented America Works of Pennsylvania to finalize the space contract.
In the final agreement, Viturello represented Intuitive Counseling, LLC, a mental health counseling service, in the lease of 675 square feet on the 18th floor of 123 South Broad Street.  Brian Hitchings, a broker with SSH Real Estate, represented 123 South Broad Partners, the limited investment partnership that owns the building, in finalizing the long-term lease.
Download PDF