PernaFrederick Real Estate Brokers Lease for 8,655 SF To Expand Offices of RJMetrics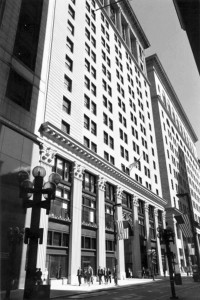 PHILADELPHIA, PA — PernaFrederick Commercial Real Estate has represented RJMetrics in the negotiation of a lease for an additional 8,655 square feet of class A office space in The Widener Building at One South Penn Square.
The new space contract was negotiated by Dan Gummel of PernaFrederick and will expand the offices of RJMetrics to more than 21,500 square feet on the fourth and 15th floors of the 18-story building.  Gummel negotiated the original RJ Metrics lease in December, 2013.
According to Gummel, Craig Scheuerle and Matt Guerrieri with Newmark Grubb Knight Frank cooperated with PernaFrederick and represented Chestnut Street Realty, the owner of The Widener Building, in finalizing the terms of the lease, for which no aggregate rental was disclosed.
RJMetrics helps online businesses make smarter decisions with their data and first moved its operations to the 15th floor of The Widener Building in early 2014.
Download PDF