PernaFrederick Brokers Three Lease Agreements for 5,725 SF with Aggregate Value of More Than $425,000
PHILADELPHIA, PA — PernaFrederick Commercial Real Estate has represented  three tenants in the negotiation of lease agreements for approximately 5,725 square feet of downtown office space that have a combined aggregate rental exceeding $425,000.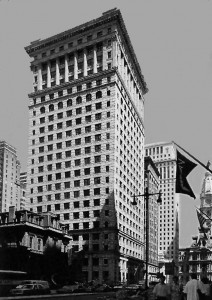 Joe Viturello at PernaFrederick represented Back on My Feet, a social service agency that works to combat homelessness, in the lease of approximately 2,000 square feet on the 21st floor of the Land Title Building at 100 South Broad Street.
Viturello and Karl Schwemlein of MS Fox Real Estate arranged the space contract with LTD Limited Partnership, owner of the 22-story, 366,000 square foot building that fronts South Broad between Locust and Sansom Streets.
At the Widener Building, One Penn Square, the team of Viturello and Dan Gummel arranged two leases for approximately 3,725 square feet.
In the largest of the agreements, Reed & MacKay Strategic Travel Management, a London, England headquartered travel agency, is establishing its U.S. corporate travel office in approximately 1,925 square feet on the ninth floor of the Widener Building.
In the second space contract Viturello and Gummel represented Solve Media, LLC, in arranging a lease for 1,799 square feet also on the ninth floor of the 18-story building. Matt Guerrieri, a broker with Newmark Grubb Knight Frank, cooperated with PernaFrederick and represented the building owner, Chestnut Street Realty, L.P., in finalizing the two leases.
Founded in Philadelphia in 2008, Solve Media is owned by Adiant, a digital media technology company that delivers the most innovative solutions for advertisers and publishers. It offers every type digital solution available to meet advertising or monetizing needs.
Download PDF